Poker News
Everygame Poker Offers Spin Deals on Nucleus Gaming Slots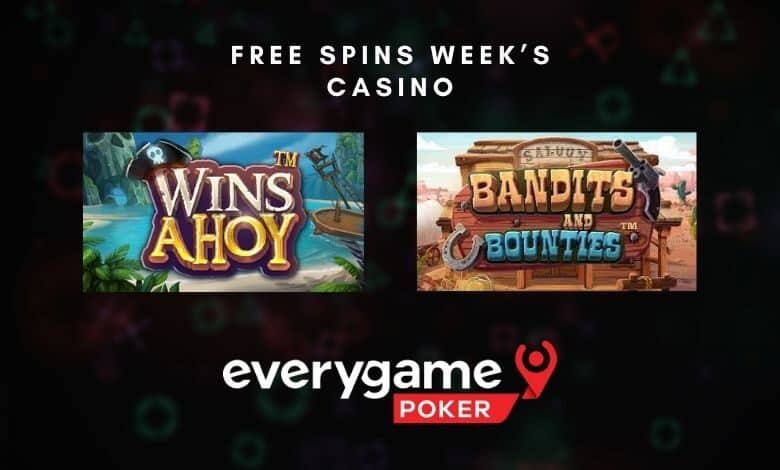 Everygame Poker has highlighted spin deals on Nucleus Gaming online slot titles. These are scheduled to run from May 23, 2022, to May 30, 2022, applicable on Wins Ahoy and Bandits & Bounties. Additionally, players will benefit from blackjack bets being offered by the platform to its active players.
Nucleus Gaming has two different spin deals. The first one allows players to deposit $25 or a higher amount for 40 spins, and they will have to enter the code BOUNTY40 when depositing the fund. The said promotion is for Bandits & Bounties, a wild west-themed title with two spins, including multiplier wilds and sticky wilds.
Players who engage with Bandits & Bounties have an extra chance to trigger a respin and increase their chance of winning a reward. It is the courtesy of a special feature called Respin that functions after 'no win' is triggered after the spin has been performed.
The game picks a random symbol to stick with the current grid in that scenario. Once the respin is complete, players have a higher chance of winning a reward. Another spin deal relates to Wins Ahoy, where players must deposit at least $50 using CAPTAIN70. The game then triggers 70 spins.
Wins Ahoy is a game that takes players on a battlefield between the Navy and the pirates, who are trying to run away with the stolen booty. The Navy and pirates are placed on the opposite sides of the grid, and the Navy moves closer to the pirates with every spin that the player performs.
The battle is teased when both meet at a point. The slot of Wins Ahoy has skull and crossbones symbols along with this battle mode.
Blackjack bets are deals that players can enjoy from May 23, 2022, to May 29, 2022. It is an added deal that keeps players coming back to their content. The blackjack bet deal can be accessed by logging into the Everygame online poker account.
It offers an opportunity to win up to $250 on 25 bets of $2 at zero cost. The game can be accessed by navigating to the Tangente Tab in the online casino section.
Free spins and free bets are the most common types of promotions that online casinos deploy to better show their commitment to enhancing the experience of their players. Online casinos often go a step ahead to offer a welcome bonus that can be used to place bets.
Online gaming sites offer a lot more that can be explored by visiting or logging into the account of that website. Apart from promotions, online casino sites leave no stone unturned in offering the best features to their players. These include security against cyber threats, 24/7 customer support service, and deposit methods.
Since their inception, online casino websites have improved a lot in terms of the number of payments they accept and the variety of games they offer.