Sports News
SRH vs. KKR, Match 47 of TATA IPL 2023: A fight for survival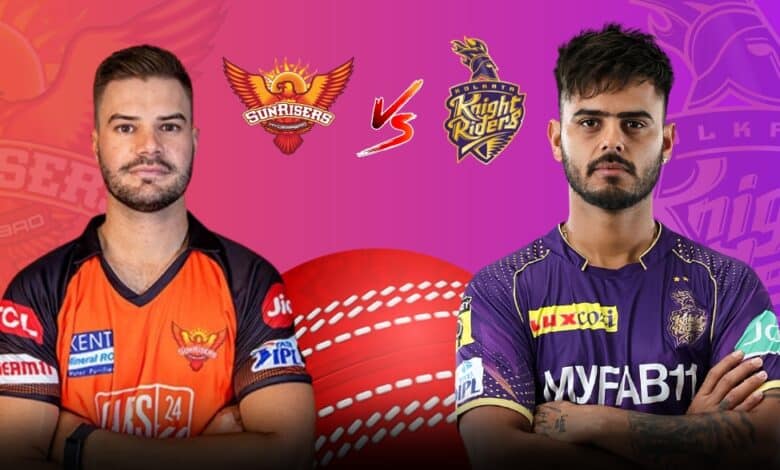 Sunrisers Hyderabad (SRH) and Kolkata Knight Riders (KKR) are going through a rough patch in the TATA IPL 2023. Both teams will next face each other on May 4, 2023, at 7:30 p.m. IST at Rajiv Gandhi International Stadium for Match 47. While the chances for both teams to qualify for the elimination round are close to zero, the event will be worth watching because it is a chance to keep their hopes alive for just-in-case situations.
Current Standings
A total of ten teams are racing to make it to the list of the Top Four in the TATA IPL 2023. SRH and KKR are in the 9th and 8th positions, respectively. Each team has six points to their name with 3 wins. However, SRH has lost five matches, while KKR has been on the losing end six times.
Kolkata could still bounce back to a higher rank with a better net run rate. The same reflects -0.147 in comparison to Hyderabad's NRR of -0.577. If there is a chance to make it to the Top Four, then the Knight Riders have a better chance purely based on their NRR. This is based on the assumption that KKR and SRH end up having the same points at the end of the league matches.
Struggles of SRH
Sunrisers Hyderabad looked strong when Harry Brook marked his arrival with a 55-ball century. He remained unbeaten against KKR in Match 19 of the TATA IPL 2023. However, things have not gone well for him. The effect is such that the entire batting line-up can be seen struggling.
The bowling unit has been exceptional, with Bhuvneshwar Kumar leading the charge along with Mayank Markande and T. Natarajan. Mayank is credited with picking up two wickets against the Delhi Capitals. He gave away just 20 runs throughout his innings, thereby contributing to the win by restricting the Warner-led side to just 188 for 6 wickets.
Struggles of KKR
Varun Chakravarthy ranks at the 9th position in the list of Purple Caps for TATA IPL 2023. Rinku Singh hit massive shots against the Gujarat Titans while chasing 205. That is pretty much the summary, following which the bowlers are struggling in every match.
Making this evident is the fact that they were unable to defend the total of 179, allowing the Gujarat Titans to chase it down with 13 balls remaining. What adds to this worry is that they were only able to pick up three wickets at the time when the match was being hosted in their backyard.
Nitish Rana, the skipper, along with Jason Roy and Andre Russell, are the top three picks. They must carry the responsibility of sticking around before SRH's strong bowling department destroys their momentum in the powerplay itself.
Importance of Match 47 for SRH and KKR
To slide it right across the table, both teams have dim chances of making it to the Top Four in the TATA IPL 2023.
KKR could pose more danger if it chooses to bat later. Rinku Singh has hit five consecutive sixes in the past against GT (which now ranks at the top). There is little evidence to make someone believe that Singh will not replicate those shots again.
A winning team receives two points to keep their aspirations alive. If KKR loses, it will have a few chances to recover, whereas Hyderabad will have an additional match to ascend the standings.
Key Players
Bhuvneshwar Kumar from SRH and Nitish Rana from KKR are the top picks for SRH vs. KKR in TATA IPL 2023 Match 47. Rana leads KKR in a battle for survival against Kumar, who will be under the captaincy of Aiden Markram.
Other players from SRH who are sure to leave an impact are Natarajan and Umran Malik. All hail from the bowling unit. Markram and Brook, both right-handed batters, will have to form a winning partnership.
KKR looks forward to Andre Russell and Jason Roy, both right-handed batters, forming a partnership to complement their skipper. Tim Southee and Umesh Yadav have experience as fast bowlers that could help lower the burden on Varun.
Team Strategies
SRH defeated DC by picking up an early wicket from their skipper just after two balls of the innings. Kumar is likely to open again against KKR. Natarajan was included on the side as an Impact Player. He did his job by sending Sarfaraz Khan back to the pavilion when he was at 9 runs off 10 balls. He also managed to maintain an economy of 8.50 throughout his innings.
KKR beat RCB by setting a target of 201 in Match 36 of the TATA IPL 2023. Jason Roy opened the batting inning and went on to complete his half-century in less than 30 balls at a strike rate of 193.10. Russell missed his chance by coming in the middle of his order, but the skipper made sufficient damage despite missing his half-century by 2 runs.
Overall, it is going to be SRH's bowling unit against the batting unit of KKR.
Conclusion
The batting unit of KKR is supportive. They cannot be disappointed if the bowling unit of SRH attempts to come too strong against them. SRH has a slight advantage since they are the hosts. Also, several top cricket betting sites are siding with them for the win under home advantage.
However, KKR may throw in a surprise by making the best use of Varun for his four spin-overs.