Casino News
MGM Resorts is all Set to Welcome The Guests And Safeguard Them With the Seven-Point Safety Plan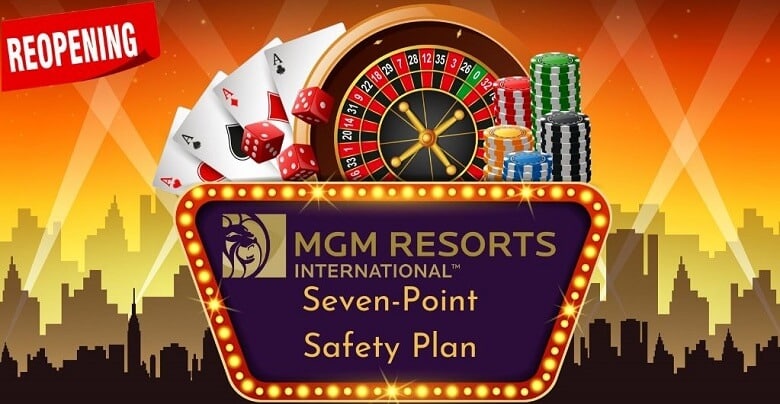 The world is in a state of unrest and boredom in quarantine. But MGM Resorts is here with good news. MGM Resorts has decided to fling open the doors of the casino resort, keeping health and safety as the topmost priority. So, beat the quarantine blues and take a plunge into the adventurous casino games at the safe and secure MGM Resorts. The team at MGM Resorts is working closely with health experts to chalk out a plan for welcoming the casino players on-board again. Introducing the all-new and efficient Seven-Point Safety Plan, the MGM Resort team declared that health, safety, and security is the primary focus of MGM Resorts.
MGM Resorts is all prepared but safety is the first priority
The team at MGM Resorts is striving hard under the guidance of medical experts to formulate the comprehensive protocol of safety and good health and launch it in the form of the Seven-Point Safety Plan upon re-opening the doors of the MGM Resorts. The Seven-Point Safety Plan consists of the following salient features:
Screening of the employees to check for signs of infection, along with regular temperature checks, and strict maintenance of hygiene and sanitization.
Making it compulsory for the employees to wear masks and use personal protective equipment.
Maintenance of the physical distance of six feet from guests and everyone else in the vicinity
Implementation of proper air quality control through the installation of HVAC systems
Adherence to incident response protocols
Employment of digital technologies for more availability of contactless options for the guests.
MGM: Jason Smith's pairing recommendations for the food in his pantry
The Master Sommelier, Jason Smith, is of the opinion that simply pairing wine with the food is not the right way, as the complementary sauce has to be considered as well. Lemon herb sauce goes well with Chardonnay and Pinot Noir. The mushroom sauce goes great with Pinot Noir and Merlot. The rich and sweet barbecue sauce is deliciously paired with fruity Malbec and Syrah.
Challenges faced by MGM resort during COVID pandemic
The closure of every property of MGM Resorts in the US on 16th March 2020 has had a detrimental effect on the business of MGM Resorts.
The MGM Resorts team is working hard to meet the remuneration of thousands of employees, which too has had a severe impact on the company's economy.
The re-opening of the casino resorts, along with the implementation of the Seven-Point Safety Plan, will help in mitigating the challenges faced by MGM Resorts to a great extent.
Other casino firms that are planning to re-open the casino
The decision of re-opening the casinos of MGM Resorts has given hope to several resort-owners across the US. The following casino resorts are seeking to begin operations along with the implementation of safety protocols:
Casino Lisboa in Macau
Wynn Resorts of Nevada
Caesar's Resorts of Las Vegas
Eldorado Resorts of Louisiana, and more.