Sports News
TATA IPL 2023: Five players who left their mark on everyone's mind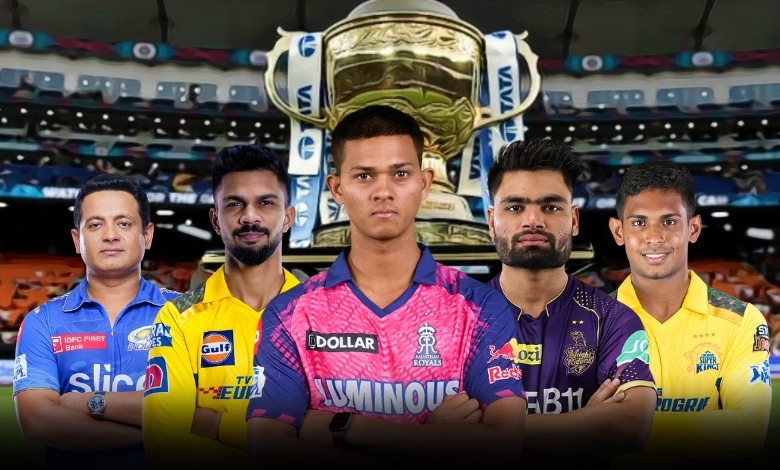 The Indian Premier League is celebrated across the globe. One reason is the level of competition that it brings along. A perfect mix of international and national talent battles it out for the ultimate title of the Premier League. Interestingly, the pressure needs to be absorbed equally by well-established champions and those who are learning to make their way.
TATA IPL 2023 was no different. The level of competition instead saw a soaring increase. Fortunately, this allowed players to prove their worth through their performance.
Five Remarkable TATA IPL 2023 Players
It is obvious to talk about players who have made their names in international cricket. Therefore, the article tries to bring those cricketers under the limelight who were not expected to stun everyone, including the most obvious players and cricket experts.
Yashasvi Jaiswal, The Rising Star
Rajasthan Royal's Yashasvi Jaiswal opened for the side throughout 14 innings. The result was a remarkable contribution of 625 runs in 14 innings at an average of 48.08. Jaiswal is also one of the few players to have scored a century in TATA IPL 2023, the highest score being 124 against Mumbai Indians in Match 42.
The task was to set up a huge target in the backyard of their opponents. Making it tough was the continuous falling wickets. Jaiswal found a way to mitigate that disaster by striking 16-4s and 8-6s for a strike rate of 200. He finally lost the wicket to Arshad Khan after the bowler picked up the catch on his own throw.
Ruturaj Gaikwad, The Calm Storm
If playing under MS Dhoni has influenced anyone the most in TATA IPL 2023, then it is definitely the opener of Chennai Super Kings. Gaikwad has accumulated 564 runs so far in the innings of 15 at an average of 43.38. Even though he has missed his century on many occasions, his contribution as an opening partner cannot be overlooked.
CSK-facing GT was the most anticipated event of IPL 2023. Some of the best cricket betting sites weighted heavily on GT, predicting better odds for their qualification. Gaikwad turned the table around, complemented Devon Conway, and went on to bring a total of 60 runs off 44 balls. The pitch was slower than usual, and it was difficult to get boundaries in Match 71 versus Gujarat Titans. Nonetheless, he maintained composure and hit 7-4s & 1-6s.
Rinku Singh, The Lone Warrior
Kolkata Knight Riders, led by Nitish Rana, finished its IPL 2023 journey at the 7th spot on the leaderboard. Even though they have 6 wins to their name against 8 losses, Rinku found a way to stand out in the competition by often pulling the team single-handedly. His 5-6s have made every social media account possible. Let's talk about his adventure against Lucknow Super Giants.
LSG had set up a target of 176 at Eden Garden. Achievable, but KKR was not exactly in the right state of mind. Their position in the premier league was at risk, and the win was the only option. Openers did their job, but others fell like a pack of cards. Came Rinku Singh, scoring 67 runs off 33 balls to take the side closer to victory. KKR lost by 1 run, but Singh entered the Hall of Fame for every KKR fan.
Piyush Chawla, The Surprise Bowler
Blink your eyes, and you can miss how the ball turned after the bounce. Rohit Sharma did use Chawla to the best of his abilities; however, it cannot be ignored that the spinner delivered every time his skipper asked him to. Records speak for themselves, with Piyush at the 3rd position for the Purple Cap with 21 wickets to his name in 15 innings.
His best bowling figure, so far, is 3/22 at an economy of 7.76. Facing LSG was a tough one since their survival in the tournament was at stake. Chawla registered a 4-0-28-1 stat at the economy of 7.0, picking up the wicket of the opponent's skipper – Krunal Pandya.
Matheesha Pathirana, The X Factor
Matheesha has often played for CSK as an impact player. It will be right to say that he has been one of the most effective impact players in TATA IPL 2023 till now. The right-arm fast bowler has picked 17 wickets in 11 innings that he has played. The best figure is 3/15 at an economy of 7.72.
His most notable performance was in Match 67 versus Delhi Capitals, restricting them to falling short by 77 runs during the chase. Pathirana entered the ground as an IP and found 2 wickets to his name in 4 overs with a 5.50 economy. DC's skipper was the first target in the 19th over, followed by Lalit Yadva in the final over. While Yadav was a fresh batter on the field, Warner was a well-set batter who was difficult to stop from hitting big shots.
Conclusion
Rinku Singh has the talent to finish high-scoring matches, therefore making him the most potential candidate for a finisher's role in Indian Cricket Team. Yashasvi and Ruturaj are in a severe battle to become the best opener. RR's opener has no more chance in TATA IPL 2023, but CSK's champion still has one more event to go. Pathirana's talent will have to be refined further, probably by Rohit Sharma in team India. Piyush Chawla wins everyone's hearts.
They stood out in TATA IPL 2023 by absorbing the pressure and carving their names on the stone. The Indian Premier League has again been successful in demonstrating the talent that the country has. Hoping that most of them make it to the Playing 11 for India one day.